Pressure vessel plate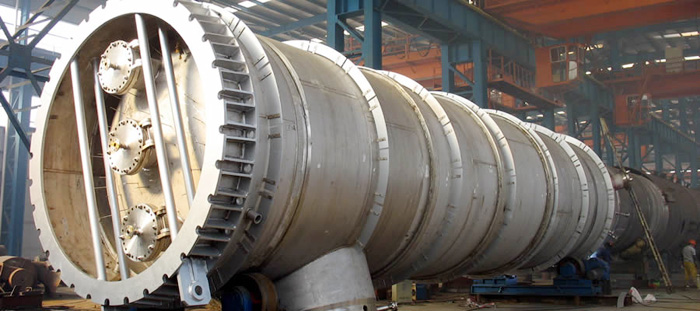 Pressure vessel plate also named as boiler steel plate.These steel plates mainly used for building boilers and pressure vessels such as petroleum, chemical industry, power plant, boiler, uses in manufacturing the reactor, the heat interchanger, the separator, the spherical tank, the oil gas storage holder.
Rolling specifications range:Thickness within 6-300mm,Width within 1500-4000mm,Length within 4500-14000mm.
Additional technical terms: Heat treatment such as Normalized,NACE included HIC and SSCC test,UT according to A435/A435M,A577/A577M,A588/A588M and so on.
Contact us freely if you need the following steel items:
STANDARD

STEEL GRADE

EN10028

DIN 17155

HI,HII,17Mn4,19Mn6,15Mo3,13CrMo44,10CrMo910

ASME

ASTM

A203/A203M SA203 Grade E,SA203 Grade F,SA203 Grade D,SA203 Grade B,SA203 Grade A

A204/A204M A204 Grade A,A204 Grade B,A204 Grade C

A285/A285M A285 Grade A,A285 Grade B,A285 Grade C

A299/A299M SA299 Grade A,SA299 Grade B

A302/A302M SA302 Grade A,SA302 Grade B,SA302 Grade C,SA302 Grade D

A387/A387M SA387Gr11CL1,SA387Gr11CL2,SA387Gr12CL1,SA387Gr12CL2,

A515/A515M (S)A515Gr55,(S)A515Gr60,(S)A515Gr65, (S) A515Gr70

A516/A516M (S)A516Gr55,(S)A516Gr60,(S)A516Gr65,(S) A516Gr70

A533/A533M SA533GrACL1/CL2/CL3/CL4,SA533GrB

A537/A537M (S)A537CL1, (S)A537CL2, (S)A537CL3

JIS

SB410,SB450,SB480,SB450M,SB480M

SPV235,SPV315,SPV355,SPV410,SPV450,SPV490

GB

GB713 Q245R,Q345R,Q370R,18MnMoNbR,13MnNiMoR,5CrMoR,14Cr1MoR,

12Cr2Mo1R,12Cr1MoVR

GB3531 16MnDR,15MnNiDR,09MnNiDR